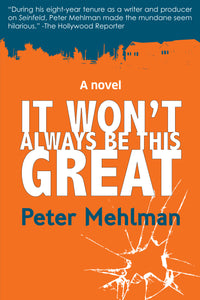 "It turns out that not only can Peter Mehlman write funny television, he can write a funny book. Who knew?"
―Julia Louis-Dreyfus, star of HBO's Veep,  and of Seinfeld
In the crushing complacency of suburbia, mid-life crises pop in on men's lives unannounced. For one Long Island podiatrist, it takes an impromptu act of vandalism just to make him aware of his own being. Walking home in the sub-zero wind chill of a Friday night, he stumbles on a bottle of horseradish and mindlessly hurls it through the window of a popular store selling over-sexed tween fashions. This one tiny, out-of-character impulse turns his life vivid and terrifying, triggering waves of fear, crooked cops, and suspicions of anti-Semitism, both accurate and paranoid.
 The story is told by this same podiatrist, an often hysterical, endearingly wide-eyed, and entirely nameless narrator, to what he regards as the perfect audience: a comatose college friend. Prior to the bottle throwing incident, our narrator had just enough going on to keep him interested in his own life. Now he's way too interested. Friends and neighbors push his new intrigue-filled existence into wildly unpredictable places. Pushed to the edge by his own desires, despairs, and disappointments, our narrator is about to find out what it's like to become a criminal, and what his crucifyingly dull neighborhood looks like when it's been turned upside down.
Chock full of heart and humor, It Won't Always Be This Great, the debut novel of former Seinfeld writer Peter Mehlman, shows how one man's story is never really his story alone—it's the story of his family, of his friends, of those he neglected, of those he remembers, of his enemies, and of his hopes, failures, dreams, and realities. And how one man's moment of rage snowballs into an entirely new life for him and his neighbors.
"Anyone who writes for television gets frustrated that they can't write like Peter Mehlman. Now he's going to make novelists mad too. Mehlman's writing style is completely unique, and creates an intimate bond between the narrator and the reader. You finish the book feeling as though you've made a new friend." 
―Aaron Sorkin, Academy and Emmy-award winning screenwriter, producer, and playwright, whose works include A Few Good Men, The American President, The West Wing, Sports Night,
The Social Network
,
Moneyball
, and
The Newsroom
"Equal parts moral dilemma, subtle social commentary, and journey of self-discovery, Mehlman's tale of a man forced outside the comfort zone of his 'respectable, decent, low-impact, relaxed-fit, gluten-free world' is both laugh-out-loud funny and deeply moving."
―Publishers Weekly
"Peter Mehlman's first novel, It Won't Always Be This Great, is not the post-Gatsby, Great American Novel that we've all been waiting for—the story that captures the hopes, the fears, the rhythms and resentments of a younger generation. But it is something almost as noteworthy: the Great American Jewish Novel. Specifically, the Great American Jewish Novel of the Early 21st Century, Comedy Division.
―LA Weekly